One of the main aims of IReSH is to bring its members together to meet each other, share ideas and research, and to spark collaborations in relation to sexual health and BBV research. Over the past few years, we've run a number of different events to help make this happen.
We run conferences for IReSH members to present on research and practice, and to engage with and across the sector. In April 2019, we held a one-day conference in Edinburgh called Doing sexual health research in Scotland: collaboration, innovation & community participation? This event featured a keynote presentation by Dr Peter Keogh (Open University) who prompted us to think about the knowledge we produce in sexual health research and how we can work together to address the political challenges of our time through research, teaching and collaboration. We also heard presentations from speakers from Scottish Universities, NHS services and Third sector organisations and enjoyed a final interdisciplinary panel, featuring a discussion about Doing sexual health research with researcher Nicola Boydell, nurse-researcher Jenny Dalrymple and community organisation member Will Dalgleish.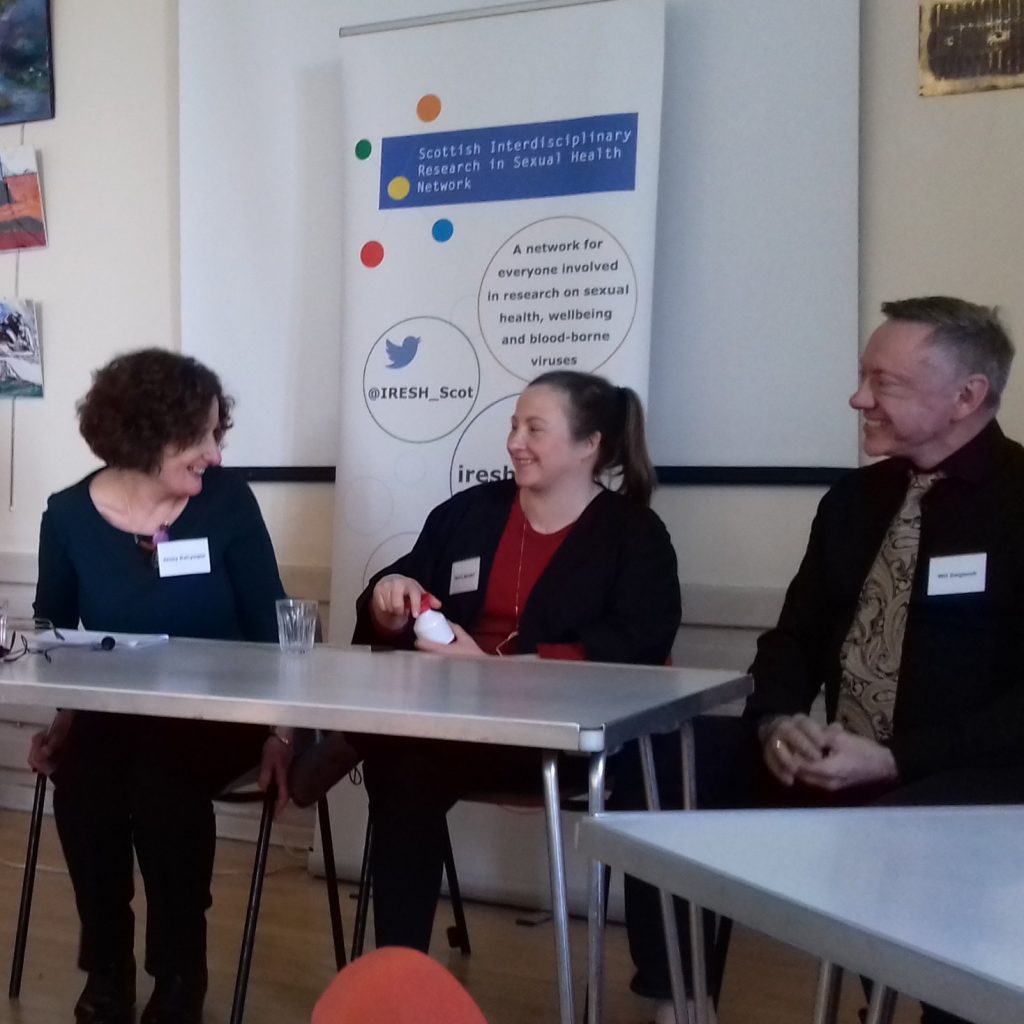 Photo: George Burrows, Twitter
We also put on a number of IReSH Lunchtime seminars. These 2-hour seminars feature speakers from across research and practice who present on a key theme. These interactive seminars are live-streamed for those unable to attend in person. Topics have included: Sexual health research in, with, for or by communities, Current perspectives on PrEP in Scotland and HIV & Testing innovations in Canada and Scotland.
In addition to formal IReSH events, we organise IReSH themed activities at relevant academic and health conferences. We organised IReSH networking evening events in April 2018 to coincide with the BHIVA/BASHH conference in Edinburgh, and in September 2018 to coincide with the British Sociological Association (BSA) Medical Sociology (MedSoc) Conference in Glasgow. We also organised IReSH panels at national conferences such as MedSoc in Glasgow in 2018, and the Faculty of Sexual and Reproductive Healthcare (FSRH) conference in Edinburgh in May 2019. These panels featured speakers from IReSH presenting on the challenges in and learning from their research on interdisciplinary sexual health.
Plans are afoot for future IReSH events. We are planning new IReSH lunchtime seminars over the coming months, including topics such as Trans Sexual Health and more on PrEP. We are also excited to be collaborating with HIV Scotland on Sex, Drugs and Scotland's Health – a national conference on sexual health and blood borne virus research that will take place in June 2020 in Dundee. Watch this space for more information on upcoming IReSH events and how you can get involved!